Receiving a film festival acceptance letter feels just like receiving that thick college admissions envelope. Congratulations! You got in!
When we got the notification that Jumbo John was accepted to Dances with Films film festival in Los Angeles, we were elated. The acceptance had been preceded by a demoralizing tally of rejections. Finally! Our beloved sci-fi short film plus all the blood sweat and tears that we poured into making it had been acknowledged. We felt excited, honored, and frankly, a little relieved.
But then it quickly sunk in how much more work had to be done before we could go.
And I'll tell you what — it was all worth it. I want to share with you some of the nuts and bolts of what I learned so you can learn what worked and avoid our mistakes.
Make a List (to quell anxiety)
About 10 minutes after getting the acceptance, I started to feel overwhelmed so I immediately started to make a list. Your list may look different, but most of this is universal. Just a taste of what needed doing:
Do a theater-grade audio mix
Polish up the VFX and color correction for the big screen
Make a DCP
Make backup Blu-rays
FedEx all the materials
Cut together a trailer
Cut together some shorter clips
Flights, hotel, car reservations
Purchase additional film passes for your team
Provide red carpet lists
Purchase screening tickets for special guests and family
Deploy a PR campaign
Make a website (do this sooner)
Make an Instagram account (again, learn from our mistake, do this sooner)
Make sure everyone on your team who's going has IMDB photos
Make postcards
Design a poster
Post photos to the film's IMDB page
Scrounge up all your production stills
Make an EPK (electronic press kit)
Try and get a head start on some of these things instead of waiting to the last minute.
Maximize Everything the Festival Offers to its Filmmakers
Don't kill yourself trying to go to every networking event. Do focus on the ones that appeal to you. I went to every panel at Dances with Films because they had great guests who offered valuable insights.
Hit up the filmmakers lounge
Hit up the panels
Hit up the social events
Hit up the parties
Get to know the Festival Staff
Get to know the staff. They are the coolest, nicest film-loving people (many of them filmmakers to boot) you'll probably meet. Think about it: they've easily watched more films than you have based on submission numbers alone, which means they have the patience of saints, and they have great taste because they selected your film!
An organic relationship with a festival can't hurt if you decide to submit a project in the future.
Know what to say when someone asks "What's your film about?"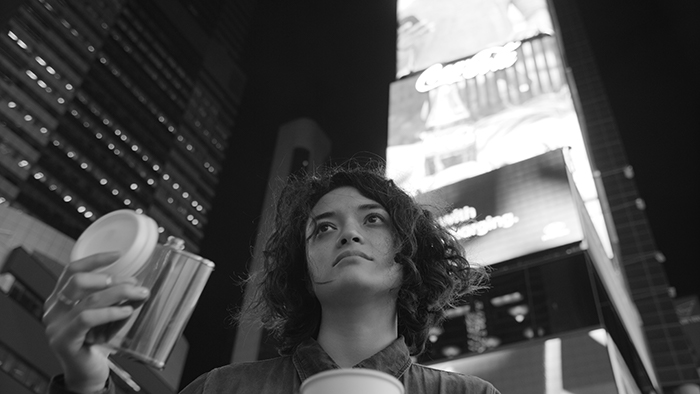 This ended up being more trial by fire. At first I just told them the logline: A chess champ fleeing Manhattan must confront her gatekeeper: John. Which was a good start, but I realized as I told more people that throwing in hints of AI made it more intriguing.
The big question is how much do you tell people without giving away a big twist? It's kind of like a movie trailer in that you want to entice an audience without giving away the whole movie.
What else are you working on?
Know what's next. Everyone will ask you what your next project will be, what else are you working on?
I had thought about this loosely ahead of time. When I pitched my next short film off the cuff, to my surprise people were receptive to the idea. Turns out this was a handy barometer to test an idea on strangers and has helped me galvanize it into actualization.
Prepare for that Step and Repeat
I don't normally get nervous for pictures, but I had never done a step and repeat or red carpet before. So as soon as I stepped into the light I kind of froze up, my mouth didn't know what to do, and I ended up making a weird face for my first Getty image.
(This photo turned out better than the aforementioned goofball photo.) But if you Google "Tom Logan Gruber" you'll find it. I could not recreate that same contorted grin if I tried. Haha oh well. Practice your smile!
Keep that Instagram Fire Burning
My humble festival entourage posted photos just about every day we were there. I don't have empirical data on how effective this was, but I did notice the other films that posted a lot and remembered them.
Seems like it's useful to stay on people's radar and help them remember your film when they decide which screenings to attend, which film to vote for, etc.
And having a presence may be handy down the road for reviews or when other festivals consider you for programming. It's just a small piece of the marketing cake.
Consider hiring a Publicist
I didn't hire a publicist, but I'd reconsider this strategy next go round.
My original thinking was that because we only had a short film it wouldn't be worth the money and that we could do it all ourselves. But the reality is that publicists can do things that you can't. They're much faster and adept at blasting out press releases, landing you interviews or reviews, and catalyzing industry connections.
For a world premiere, I'd recommend hiring a pro to help you with those things, even if you only have a short film. Most festivals will give you a list of recommended PR people.
Consider splitting it up. Do your own social media stuff, so that it has your voice. This seems like a manageable, economical middle ground.
Opinion on Postcards and Business Cards
Yes, like everyone recommends, bring lots of them. Have some on your person at all times. I've been happily using
Moo
for years and recommend them. However:
We made 250 postcards and probably only used about half. That included the fat stack we put on the postcards table, giving them out in conversation, etc. We didn't pass them out blindly in the lobby or out front of the theater. I reckon if we had, we might have burned through all of them and maybe needed even more.
The postcards we made were standard size. I'd recommend a smaller size that's more pocketable for folks to carry.
Some films made cool novelty items like sunglasses and lens cloths, but I'm not sure they were much more effective.






Those are my thoughts and advice for now. I'm sure I'll think of some more things and add them here.